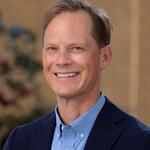 Aaron Johnson
Vice President, Bay Area Region, Pacific Gas and Electric Company
San Francisco Director
As one of PG&E's senior leaders in the field every day, he is accountable for delivering high-quality performance to our customers and ensuring the safety, availability, and reliability of regional operations for our hometowns. The Regional Vice Presidents live and work in their regions, close to the customers they are dedicated to serving, so that they can build strong collaborative relationships and develop solutions to operational issues based on a deep understanding of local needs.

Previously, Johnson was Vice President, Wildfire Safety and Public Engagement in Electric Operations, with responsibility for improving operational practices and situational awareness to mitigate wildfire risk, including starting the Public Safety Power Shutoffs (PSPS) program, and leading strategic planning for rebuilding infrastructure damaged by wildfires.

Before transitioning to Electric Operations, Johnson was PG&E's Vice President, Customer Energy Solutions, overseeing customer and clean energy programs, including orchestrating PG&E's entry into the electric vehicle charging business. Earlier, he was Director, Renewable Energy Procurement, shaping policy and commercial strategy for wholesale procurement to meet ambitious renewable portfolio standard targets, and led solar and wind resource development.

Prior to PG&E, Johnson worked at the California Public Utilities Commission (CPUC) as energy advisor to two Commissioners and was a member of the senior management team.

Johnson holds a bachelor's degree in optical engineering from the University of Rochester and a master's degree in electrical engineering from the University of New South Wales in Australia.