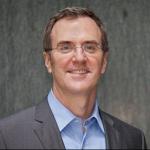 Paul Woolford
Sr. Vice President, HOK
San Francisco Director
SAN FRANCISCO, Dec. 5 /PRNewswire/ -- Paul S. Woolford, AIA, LEED AP, has been named Design Director for the San Francisco office of Hellmuth, Obata + Kassabaum, Inc. (HOK). Woolford brings more than 20 years' experience with major building projects in the San Francisco Bay Area, the Southeastern United States, and London to his new role. He returns to San Francisco to direct HOK projects that reflect the firm's strengths in research laboratories, airport terminals, commercial office buildings, hospitals, courts and other government projects.
"Over his career Paul has been responsible for some of HOK's most complex and acclaimed buildings," commented HOK Chairman William Valentine. "He is an incredibly thoughtful architect, and his leadership in the design of sustainable buildings and communities, as well as his expertise in urban design and planning, is an outstanding complement to the San Francisco team. We're delighted to have him back in the Bay Area, and to have the next generation of HOK leadership on board."
Recognized for his designs of biomedical/life sciences, education, corporate, healthcare, and government buildings, Woolford's design portfolio includes numerous award-winning projects. Recent accomplishments include the BART Station at San Francisco International Airport; the Whitehead Biomedical Research building at Emory University, winner of the first Silver LEED(TM) Award ever granted in the Southeast; and the State Archives and Library of Georgia, winner of a 2005 National Design Excellence Award from the American Institute of Architects. Current Bay Area projects include the master plan for San Francisco's new Transbay Transit Center, and the expansion of the China Basin Bioscience Building at Mission Bay (incorporating the world's first state-of-the-art base isolation seismic system on top of an existing building).
"I am thrilled to return to the Bay Area and to lead some of the most important and exciting architectural projects being built anywhere in the country," Woolford said. "HOK has made a commitment to the design and building of sustainable communities, and the projects that we are working on throughout this region represent the next generation of sensitive, functional and aesthetic architecture and design."
In addition to serving on the HOK Board of Directors, Woolford is currently a board member of the San Francisco Chamber of Commerce and a member of Lambda Alpha, a society for the advancement of land economics. He is active nationally with the American Institute of Architects, which presented him with the AIA National Young Architect Award for exceptional design leadership in 2003. He is a frequent guest speaker at professional and civic conferences and forums across the country, including sustainability presentations for the Urban Land Institute, American Institute of Architects, Society for College and University Planners, and the U.S. Green Building Council.
Woolford received a degree in architecture from Cornell University in1983. He lives in San Francisco.